The development of the concern for tightness in the salt cavern industries, of accurate tightness test techniques and of the concept of Mechanical Integrity Tes
Le développement de la prise en compte de l'étanchéité dans l'industrie des cavités salines, des techniques permettant de la tester et du concept de "Mechanical Integrity Test"
Salt caverns started being produced as a by-product of the salt production industry. In the 1940s, these caverns started being used for storage of hydrocarbons. There are now 2000 salt caverns globally storing liquid, gaseous or supercritical fluids. The necessity to test the tightness of the storage caverns came along with their development. A large variety of techniques have been proposed, varying over time, companies and countries. In addition, several acceptance criteria of these tests have been, and are still, used. While first attempts were to relate a fail/pass criteria to possible impacts, the industry rather relied on criteria that have shown their applicability and their effectiveness through a track record of a limited number of accidents when applied. This work presents all these initiatives and their historical context. Measurements uncertainties are propagated in order to enable to compare the accuracies of the main tightness test techniques. Invented in the 1970s, the nitrogen/brine "Mechanical Integrity Test" progressively became the reference tightness test technique for salt caverns. The comparison of tests accuracies shows it is excellent. Among massive storage options, salt caverns now have a singular property: their tightness can be tested very accurately.
Les cavités salines ont été initialement un sous-produit de l'extraction industrielle de sel. Dans les années 40, elles ont commencé à être utilisées pour y stocker des hydrocarbures. Il y a aujourd'hui 2000 cavités salines dans le monde stockant des fluides liquides, gazeux ou supercritiques. La nécessité de tester l'étanchéité des cavités de stockage est venue avec leur développement. Une grande diversité de techniques a été proposée, variant dans le temps, selon les sociétés et les pays. Par ailleurs, plusieurs critères d'acceptation de ces tests ont été, et sont encore, utilisés. Si les premiers critères ont tenté de relier le succès ou l'échec d'un test à de possibles impacts, l'industrie a préféré utiliser des critères qui ont démontré leur applicabilité et leur efficacité via un historique limité d'accidents lorsqu'ils étaient appliqués. Ce travail présente toutes ces initiatives et leur contexte historique. Les incertitudes de mesure sont propagées afin de permettre de comparer la précision des principaux tests. Inventé dans les années 70, le "Mechanical Integrity Test" azote/saumure est progressivement devenu la référence des tests d'étanchéité de cavités salines. La comparaison des précisions montre qu'il est excellent. Parmi les options de stockage massif, les cavités salines ont aujourd'hui une propriété singulière: leur étanchéité peut être testée très précisément.
Fichier principal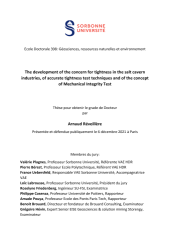 REVEILLERE_Arnaud_these_2021.pdf (3.82 Mo)
Télécharger le fichier
Origin : Version validated by the jury (STAR)