Communication non verbale et avatars au sein d'une communauté virtuelle
This article focuses on theoretical issues new communicational terms offered by devices such as " virtual worlds or universes ." In these recent devices, it is possible for the user of a virtual community to navigate and communicate remotely in a metaphorical space environment. The user then has 3D object and a representation of itself in the form of a character which is commonly called the "avatar" . It is here for us to reflect on the ethical, social and communicative consequences of materialization in three dimensions of the user in a virtual space. This space then sets up a situation of communication in which the representation is omnipresent. In epistemological terms , we situate this research object at the crossroads of a new approach to communication type ( Winkin , 2001) , and semiotic analysis of sensorimotor and pragmatic social mediations ( Peraya , 2007). To clarify our thinking , we deliver to the reader the results of an experiment conducted in a virtual community of learners ( Bonfils , 2007). Through the manipulation of his avatar , we show how each member of the community uses non-verbal communication and tends to participate in the relational dynamics and the construction of a collective social bond. We show that through a gradual ritualized movements and interactions of avatars (Goffman, 1973; Lardellier , 2003) , virtual space appears as a symbolic place and proxemics communication (Hall, 1971).
Cet article s'intéresse aux enjeux théoriques des nouvelles modalités communicationnelles offertes par des dispositifs de type " mondes ou univers virtuels ". Dans ces dispositifs récents, il est en effet possible pour l'utilisateur d'une communauté virtuelle de naviguer et de communiquer à distance au sein d'un environnement métaphorique et spatial. L'utilisateur dispose alors d'objets 3D et d'une représentation de lui même qui prend la forme d'un personnage que l'on nomme couramment son " avatar ". Il s'agit pour nous ici de réfléchir aux conséquences éthiques, sociales et communicationnelles de la matérialisation en trois dimensions de l'utilisateur dans un espace virtuel. Cet espace met alors en scène une situation de communication dans laquelle la représentation est omniprésente. Sur le plan épistémologique, nous situons cet objet de recherche au carrefour d'une approche de type nouvelle communication (Winkin, 2001), et de l'analyse sémio-pragmatique de médiations sensorimotrices et sociales (Peraya, 2007). Afin de préciser notre réflexion, nous livrons au lecteur les résultats d'une expérimentation menée dans une communauté virtuelle d'apprenants (Bonfils, 2007). Grâce à la manipulation de son avatar, nous montrons comment chaque membre de la communauté utilise la communication non verbale et tend à participer à la dynamique relationnelle et à la construction d'un lien social collectif. Nous démontrons que par l'intermédiaire d'une ritualisation progressive des mouvements et des interactions des avatars (Goffman, 1973 ; Lardellier, 2003), l'espace virtuel apparaît comme un lieu symbolique et proxémique de communication (Hall, 1971).
Fichier principal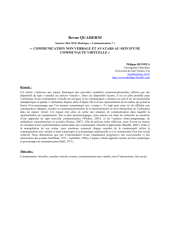 Bonfils_Quaderni_Num-Janvier-2010_Publish.pdf (377.06 Ko)
Télécharger le fichier
Origin : Publisher files allowed on an open archive